Broadway star Ryan Steele in Alan Brown's Five Dances
Film Society of Lincoln Center is proud to announce the 41st edition of Dance on Camera. This marks the 17th consecutive year in which the Film Society, through its partnership with the Dance Film Association, has presented the film festival, which is devoted to showcasing new and exciting ways in which dance and movement is being captured on film.
This year's lineup features a wide array of world premieres, including opening night selection Five Dances. The film stars Ryan Steele, current cast member of Broadway hit Newsies, in his first feature film role as Chip, a gifted member of a burgeoning downtown dance company. Having left behind his dysfunctional Midwest family for the big city, Chip struggles to bring his dreams to fruition and come to terms with his sexual identity. Five Dances features several talented young dancers making their on-screen acting debut, as well as original choreography by internationally renowned choreographer Jonah Bakaer. Steele, as well as director Alan Brown and other members of the cast, will be in attendance at the film's screening.
Making its New York Premiere is Andrew Garrison's documentary Trash Dance, which travails choreographer Allison Orr's unique project of taking employees from Austin, TX's Department of Solid Waste Services to turn their everyday work into a heightened piece of choreography. The year-long process results in an extraordinary performance on an abandoned airstrip, involving 16 garbage trucks, 24 dancers, a piano, a violin, and a cello. Director Andrew Garrison and Allison Orr will both be on hand for the film's screening.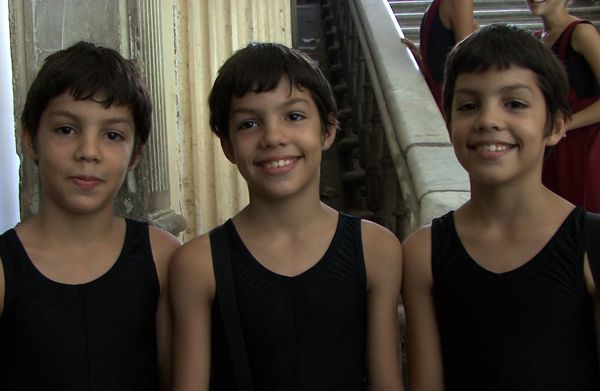 Dancing triplets Angel, César and Marcos in Sylvie Collier's documentary To Dance Like a Man
Closing out this year's festival is the North American premiere of To Dance Like A Man, a documentary about a trio of identical triplets—Angel, César and Marcos—who have risen to the top of the Cuba's National Ballet School. Despite being only 11 years old, they have a ferocious passion for dance and harbor dreams to become professionals. The documentary captures the boys' ambition and their attempt to ascend in the dance world, while also showing the influence of Cuba's culture in cultivating the triplets' desired vocation, which is widely accepted and supported by everyone around them.
Also included in the Dance on Camera lineup are celebrations of pioneering dance film director Shirley Clarke, Finland's enfant terrible of the accordion Kimmo Pohjonen, and the Ice Theatre of New York (presented by skating legend Dick Button). Adding to this eclectic array of options is Sigur Ros: Video Music Program, which features works by sixteen directors and artists that the Icelandic band chose to shoot videos inspired by their most recent album, Valtari. The results include everything from Swedish director Chris Larson's portrayal of two dancers who seemingly seduce each other through movement in an abandoned factory to Israeli director's Alma Ha'rel's much-talked-about contribution featuring a nude Shia LaBeouf, butterflies and magical lollipops. The assorted works in Sigur Ros: Video Music Program prove to be boundlessly creative and endlessly surprising in the way they incorporate and expand upon the medium of dance. The same goes for the rest of the selected works in the festival, for that matter.
Dance on Camera runs February 1 – 5, 2013 at Film Society of Lincoln. For the full lineup, check out the press release.