The OpenEnded Group presents Thought in Motion: 3 Choreographers Captured
This film has no current screenings
Marc Downie, Shelley Eshkar and Paul Kaiser in person on Sunday, June 12!
OPEN EVENT on Saturday, June 11: Admission is free and also no ticket is required for entry on Saturday, June 11. Seating will be on a first-come, first-served basis – subject to availability.
DAY-OF TICKETS for Sunday, June 12: Free tickets will be distributed 30 minutes before each event on a first-come, first-served basis (subject to availability). Limit of one standby ticket per person. Follow us on Twitter & the FilmLinc blog for updates.
RESERVATIONS: Ticket reservations are no longer being taken for the launch weekend.
IMPORTANT: Reservations must be claimed no later than 30 minutes before an event or they will be forfeit to the standby line, no exceptions.
The innovative and groundbreaking digital artists that comprise OpenEnded Group (Marc Downie, Shelley Eshkar and Paul Kaiser) present Thought in Motion: 3 Choreographers Captured -three of their more recent works (After Ghostcatching, Loops, Stairwell) featuring Bill T. Jones, Merce Cunningham and Wayne McGregor, that challenge the boundaries of projected 3-D entertainment and art.
The film pieces utilize dance and/or sound and our own visual perceptions to create multi-dimensional film works that take over an entire theatre space.
After Ghostcatching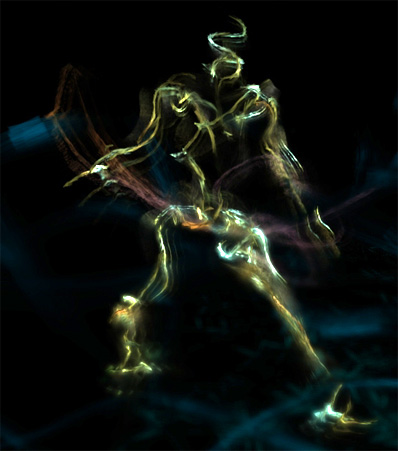 After Ghostcatching (2010) is as much about touching with the hand as it is about seeing with the eye. A disembodied dancer is rendered as a moving hand-drawn sketch — and that sketch moves in a projected 3d space that can seem so close as to let the viewer reach out and touch it.
Though the work's imagery comes entirely from a computer simulation, it bears an unmistakable human trace — that of dancer Bill T. Jones, abstracted from his physical body via a process of optical motion capture that preserves his movement but not his likeness.
A re-envisioning of Ghostcatching (1999), After Ghostcatching is built up from a larger sampling of the motions and vocalizations of Bill T. Jones captured for the earlier work. It explores the themes of disembodiment and identity with the new possibilities opened up by 3D projection and a custom 3D renderer created in the OpenEnded Group's Field software.
Loops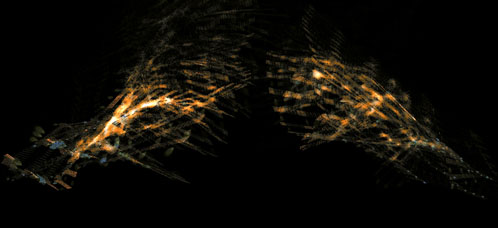 Loops is an abstract digital portrait of Merce Cunningham that runs in real time and never repeats. Originally commissioned in 2001 by the M.I.T. Media Lab for the "ID/Entity" show, its sound score was re-made for Ars Electronica in 2005. In 2007 it was re-created in tryptich form and its underlying code released as open source and Cunningham's choreography released under a Creative Commons license.
Loops is a portrait of Cunningham, but it attends not to his appearance, but to his motion. It is derived from a motion-captured recording of his solo dance for hands and fingers. The motion-captured joints become nodes in a network that sets them into fluctuating relationships with one another, at times suggesting the hands underlying them, but more often depicting complex cat's-cradle variations. These nodes render themselves in a series of related styles, reminiscent of hand-drawing, but with a different sort of life. Many viewers liken their experience of seeing Loops to that of gazing into nature: its flickering motions put them in mind of fire or of primitive biology, perhaps seen under a microscope.
In its current triptych arrangement, three views of Loops are presented. The central screen has the virtual camera facing Merce's hands directly, while the flanking screens give sideway views from the left and right respectively.
Just as Cunningham's motions generate the imagery in Loops, we now use his voice to generate the music. The initial source is Cunningham reading diary entries from his first visit to New York City in 1937, when he was 17 years old–an old man's voice evoking an earlier city and an earlier self. Later we had the idea was that if we had Cunningham speaking, then we would have John Cage listening to him, at least virtually. And so we propelled the intonation and rhythm of Cunningham's sentences into a virtual instantiation of Cage's prepared piano.
Additional support for Loops was provided by the John Cage Trust, Modern Uprising Studios, and the Mellon Foundation.
Stairwell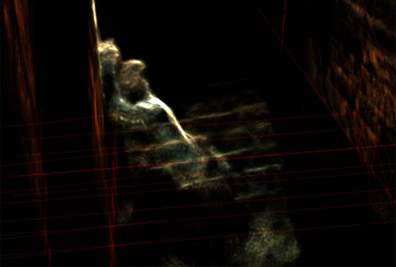 Stairwell (2010), a site-specific 3D installation commissioned by London's Hayward Gallery, is a collaboration with dancer/choreographer Wayne McGregor, captured dancing in the same stairway that viewers later entered to see the piece. The imagery floats in three 3d projections stacked vertically on a wall closely opposite the circular stairs.
The 3D capture of McGregor is oddly elusive, with the imagery always striving — but often failing — to cast his figure as a solid sculptural form for each instant of his movement. There's a perceptual battle to tell figure from ground, for a curvature of the architecture is easily mistaken for that of a limb, the angle of a knee or elbow for that of a stair. In the ongoing effort to reconstruct three-dimensional forms, surfaces lurch towards and away from solidity in the most startling fashion, and it's only through its movement that the dancing body separates itself from its fixed surrounding, lifting into clear articulation before subsiding into the visual flux again.
The OpenEnded Group
The OpenEnded Group consists of three digital artists — Marc Downie, Shelley Eshkar, and Paul Kaiser — who create works for stage, screen, gallery, print, and public space.
Exhibit and performance venues have included Lincoln Center, Barbican Centre, the Sundance Film Festival, the Hayward Gallery, the Whitney Museum, zkm, siggraph, Ars Electronica, the Center for Contemporary Art (Glasgow), Massachusetts Museum of Contemporary Art (mass moca), site Santa Fe, the ica (London), the Wexner Center for the Arts, the mit Media Lab, the Brooklyn Academy of Music, the Museum of the Moving Image, the Kitchen, the New York Film Festival, the Berlin Film Festival, the Fondacio Antonio Tapies (Barcelona), the Yerba Buena Center for the Arts (San Francisco), the York Minster, the Nabi Museum (Seoul), the icc (Tokyo), the Monaco Dance Festival, Théâtre de la Ville (Paris), the Grand Theater (Hong Kong), the Chicago Museum of Contemporary Art, the Jerwood Space (London), and many others.
They have had artists' residencies at mass moca, Bell Labs, uc-Irvine, Arizona State University, Harvard University, Empac, Cooper Union, Le Fresnoy: Studio national des arts contemporains, the Exploratorium, and Georgia Tech.
Reviews have appeared in The New York Times, the New Yorker, Wired, Aperture, the Village Voice, the Guardian, the London Times, Newsweek, Time, Computer Graphics World, the Wall Street Journal, the Financial Times, Print, Le Monde, Die Welt, National Public Radio, abc tv, and elsewhere. Among the prizes they have won individually or collectively are a Guggenheim Fellowship, the John Cage Award from the Foundation for Contemporary Arts, a Media Arts Fellowship from the Rockefeller Foundation, a Bessie award, an Arts in Multimedia Award from the Brooklyn Academy of Music and Lucent, and an Award of Distinction from Ars Electronica.
Their software research has received support from the National Endowment for the Humanities, the National Science Foundation, and the Mellon Foundation.
Artists' Statement
Much of our imagery reflects what one apprehends with the mind's eye. While our imagery is nearly always representational, it is also somewhat abstracted, as if is has been thought through — pondered or conjectured, rather than simply seen.
Though our medium is digital art, our works all bear the unmistakable trace of human presence. This is most clearly seen in the many pieces of ours that evoke human movement directly, whether of dancers on a stage, of children in a playground, or of pedestrians in a city. But the human trace is equally present in the very lines of our renderings, for which we have created a signature "hand-drawn spaces" style. With this, we can conjure up a three-dimensional world in the manner of gesture drawing rather than of the photorealistic lens, thus conveying senses of touch and intuition while tracing the movements of eye, hand, and mind.
We write our own code so as to have complete creative control of our art-making. For the past eight years, most of our time-based works are computed live in Field, our software platform, so that so that many of our works continually shift — never quite repeating, they keep surprising even the viewer who has encountered them before.
This real-time capability also allows us to create interactive works that respond to their environments. This response is not merely a matter of automatic triggering and mirroring as in so much interactive design, for artificial intelligence methods allow us to endow the imagery of certain works with intentions and predilections of their own as they respond to the world. The idea is that the artwork makes sense of shifting situations by picturing them to itself, the visual work being the trace of that process.
Recently, we have delved deeply into stereoscopic 3d projection, over which our custom real-time renderer and unusual capture techniques give us an unmatched degree of control. In 3d space, we find, the eye seems almost to touch what it sees, and the mind finds itself in a realm that is curiously
familiar, for it matches that of our introspection
Visit The OpenEnded Group